Association to Enjoy at Sashiki Tidal Flats for Happiness
Enjoy Products from the Rich Tidal Flats
Saturday 3 April 10:30 -
Meeting point: beside the Sashiki Town Sports and Recreation Center
Fee: 200 yen including insurance
Photo Gallery to Save Tidal Flats
- the richness of Sashiki Tidal Flats

From Saturday 10 to Sunday 18 April at the Supermarket MaxValue in Sashiki
We will enjoy shellfish and seaweeds to appreciate the richness of tidal flats. Please bring your rice balls and tea together with buckets, working gloves and caps. In case of rain, we will enjoy the slide picture show at the Community Center "Sugar Hall." For the photo gallery, we will have a slide picture show as the opening ceremony and mini live show on 17 April. Visit our web pages.
the Liaisoning Council for Nature Conservation of Manko
Walking Down Omine Beach
Sunday 18 April 10:30 -
Fee: 100 yen (reservation required)
Omine Beach is the last natural beach left within Naha City. Tidal flats, seagrass beds and coral reef appear at low tides. We will learn coastal ecosystems and enjoy spring products such as seaweeds from sea. Bring your rice balls.
Liaisoning Association to Save Awase Tidal Flats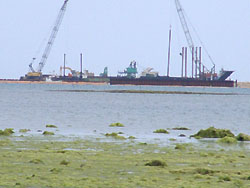 Campaign to Save Awase Tidal Flats
Sunday 18 April 11:00 -
Nature watching activity starts at 11:00, Hand-in-hand campaign and a meeting at 13:30, followed by a concert from 16:00.
New findings reveal there can be a lot of new species of seagrass, algae and shellfish at Awase Tidal Flat Area. The Awase area also attracts a largest number of migratory birds in Okinawa. Let's stop the reclamation project at the area.