The court orders a halt to the appropriation of public funds for a reclamation project in the Awase tidal flat.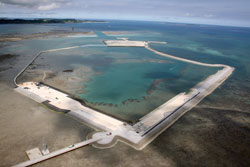 On November 19th, The Naha District Court issued an injunction to stop Okinawa Prefecture and the City from appropriating public funds for the reclamation project in the Awase tidal flat off the city of Okinawa, Japan.

The Awase tidal flat, with its rich biota, represents the biogeographical characteristics of the Nansei Islands. It is a world-class wetland and meets the Ramsar criteria for inclusion in the List of Wetlands of International Importance.

Organizations tackling with this issue just recently denounced this project together with cases in Saemangeum in South Korea and Isahaya Bay reclamation in Japan as environmentally devastating projects that typify the development pattern in East Asia at the 10th Meeting of the Conference of the Parties to the Convention on Wetlands (Ramsar COP10) and the pre-COP10 World NGO Conference on Wetlands in South Korea.

One of the resolutions adopted at Ramsar COP10 reflects the contracting parties' consciousness of such devastating projects to wetlands. Resolution X.22 "Promoting international cooperation for the conservation of waterbird flyways" states that "NOTING IN PARTICULAR the intense pressure on intertidal wetlands in the East Asia-Australasian flyway, which not only provide critical waterbird habitat, but through multiple services such as fisheries also support very large number of people and their communities."

The court injunction opened up a great opportunity to save the Awase tidal flat from destruction and ensure its conservation.

What is most needed now is to take the court injunction as an opportunity to gather the calls for the protection of the Awase tidal flat from around the world.
Please send your views and opinions on this issue to JAWAN (Japan Wetlands Action Network)
We will deliver your calls to relevant government agencies to demand a halt to the reclamation project.


Further information and commentary on the issues regarding the reclamation project in the Awase tidal flat are available on the following URL.
http://www.jawan.jp/e/news/081024awase.html

---